Andreas Felger's sketches in the context of his art
13.06. – 03.10.2021 PAUSA, Mössingen
Anniversary exhibition on the occasion of the 85th birthday of Andreas Felger.
Every year since 1970, Andreas Felger has worked on up to 50 sketchbooks with writing and images. Drawings, watercolors, sketches, incisions, collages, handwriting transform the white pages into artist's books. No doubt: Felger not only works, he lives with these mostly bound, partly loose leaf collections. He develops, discards and documents ideas, notes down quotations, questions himself – as a feeling, searching and creative person. The longer one devotes oneself to the books, the less separate these self-perceptions of the artist appear.
The subjects of his sketches are as broad as those of his entire œuvre, and stylistically, too, all genres from woodcut to watercolor, oil painting, relief, stained-glass windows and other works for public spaces to sculpture are prepared in the books. Emphases are nevertheless set: the domestic landscape, travel records, spiritual themes, picture notations on the occasion of musical compositions, abstract color-form relationships. Precisely because the sketchbooks 'don't matter', because they are initially not intended for the public but only for the artist's own use, and therefore no completion but a draft is aimed at, they give us insight into the depth of artistic practice at their sources.
At the same time, it is possible to discern an almost incalculable number of correspondences with Felger's public work, and the path from the initial idea to the completed result can be gauged. The sketches are often documents of doubt, search, and experimentation. The works, on the other hand, are completed – documents of skill and success. Only with a view to the birth and completion of the pictorial ideas can the works be measured and appreciated along the paths of their intellectual and material creation. The exhibition LEBENSLINIEN. Andreas Felger's sketches in the context of his art will present this whole exemplarily.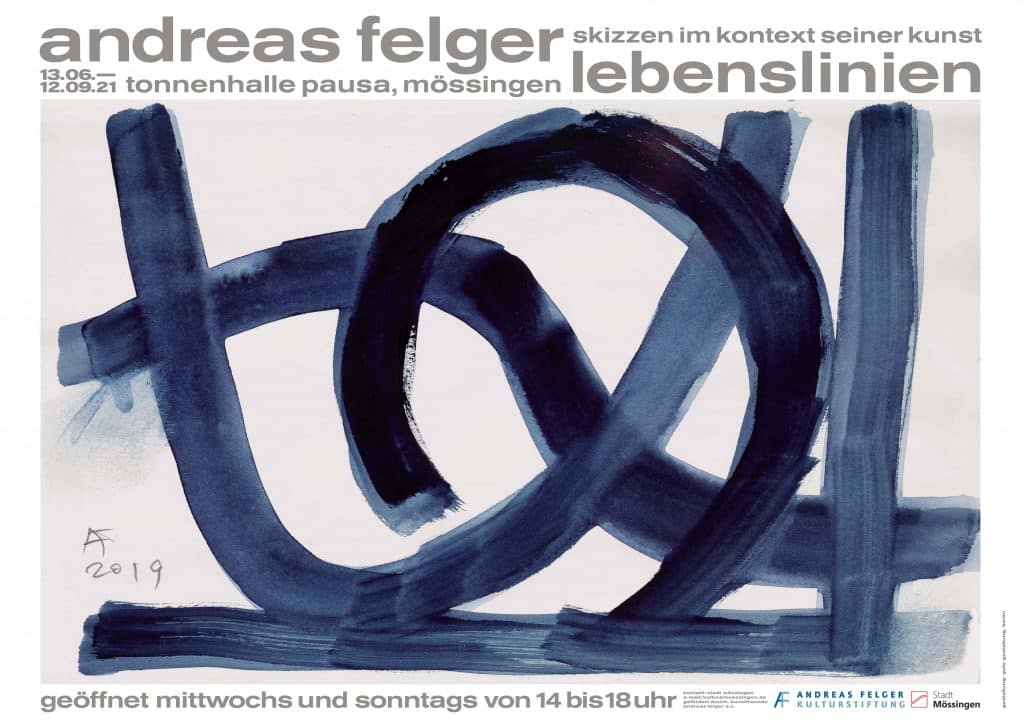 13 June – 03 October 2021
Vernissage, 11 June 2021, 6 p.m.
PAUSA Tonnenhalle
Löwensteinplatz 1
D-72116 Mössingen
Note: Pre-registration is required to attend the Vernissage. Please send your registration to the Cultural Office of the City of Mössingen: kultur@moessingen.de.